BEAUTIFUL and USEFUL | A Thrifting Strategy for Cosmetics
Hi all! My blog went KAPUT earlier today (THANK YOU to Cindy and Laura and Amy for letting me KNOW!) but I'm BACK! (Still trying to figure out what happened and sensing YET another reason to leave blogger for wordpress...advice anyone?)...but in the meantime, here is Tuesday's post a little early to let you know all is well. I just have one question for you...
NOTICE:
Hoarders and folks with hoarder tendencies.....DO NOT READ this post!!
The rest of you guys? Let's talk about turning junk into fabulousness! So last week, I go to the thrift store and there is a basket of "junk" 75% off. Now of course, at the thrift store, the original prices are around 30 cents for each item, so at 75% off, they were each around 7 cents.
Now THAT is cheap.
However, it was junk. I started thinking about each piece and deciding whether I could use it within a month. If I could, I bought it. If not, it stayed at the store. This is the pile that came home with me.
Are you itching yet?? It all seems kind of gross right? Here is my strategy.
1. When I'm at the store, any cosmetics or bathroom products must be sealed. You can tell if those little bottles have been opened or not by slightly twisting the cap. Brand new bottles will have a little resistance when you try to twist them. Those bottle went into my cart. the bottles that twisted to easily went back in the bucket.
2. When I bring them home, everything is unwrapped and anything in bottles gets thrown into a tub of soapy water (along with the other dishes and such).
Once they are cleaned up a bit, they start to seem a little bit prettier...now of course I don't need soap with a butterfly on it, but I kind of like it. Those piles of soap in the photo above? They were all hotel soaps. Again, don't buy anything unopened, but new hotel soaps piled in stacks can be quite beautiful! ...and if you don't like the look of the soap, it can still be used to make your
HOMEMADE LAUNDRY SOAP
.
USEFUL and BEAUTIFUL.
Some of the items were just plain useful. These shoelaces were in the pile in nasty old cardboard packaging. Taken out of the packing, they are clean and brand new and still encased in a plastic wrapping. My husband is always going out and buying new things right when he needs them (crazy I know!). It sometimes drives me crazy that he spends regular price on everything he needs (of course, I pay sale prices for things I don't need, so I suppose it evens out). Anyway, he often buys new shoelaces. I have never bought a new pair of shoelaces in my life, so I was surprised when he was grabbing a pair every few months for his dress shoes. This little pile will save us a few bucks over the next 6 months.
USEFUL.
Then there are all the little lotions. The Mary Kay sample was my fav. I love that stuff and it is quite expensive. A new, cleaned up bottle for 7 cents --yes please! The other little bottles are perfect to toss in a purse or in the car, especially during the winter. The trick to making these little bottles beautiful? Store them in a cute ceramic dish and combine them based on color. This selection all combined shades of blue and white. The ones that did not match were the first to get tossed in my purse.
USEFUL and BEAUTIFUL.
Of course...if you aren't going to use the junk, it is still junk and a dollar wasted
,
so buy carefully!
...and like I mentioned to those with hoarding tendencies, this strategy is not for you. If you do not use these things up, they will eventually take over your living room. Try to buy things that you KNOW will be used up within a month or 2 and then USE THEM. Now, THAT is USEFUL and BEAUTIFUL, don't you think?
To check out more USEFUL and BEAUTIFUL projects, peek at the
DIY Page
!
For my favorite USEFUL and BEAUTIFUL projects from others, you might want to check out my
pinterest
board titled "the inspiration"...there is gold in there! Pure gold!
Linking up to a few parties today!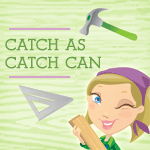 AND
Refresh Your Nest!
AND