Pin It
So this week's adventure involved a toilet, a laundry room, a basement, a furnace room and a hallway. Guess what connected them all? Yes, you guessed it...fabulous toilet water! Brilliant! Ah well...at least I was able to get most of it cleaned up quickly...anybody have advice for drying carpet?!?

What is tripping YOU up this week? Simply put in your QUESTION or TOPIC in the text area...such as "What is this color called?" or "Should I paint my toilet?", etc. etc. Let's see if we can beat last week! Link up girls! Here are buttons if ya want 'em!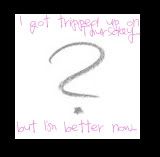 Remember, you can link up ANYTHING that is tripping you up, anything that you have learned that might HELP others from getting tripped up! I'll be posting my auction tips and tricks post later today and will be linking it up right here.
What do YOU know EVERYTHING about?!
Knitting? Wine Tasting? Clarinet? Reality TV?
Braving WalMart on a weekend?
Packing goods for ebay shipping?
Whatever it is that you are excellent at, post it on Tripped UP Thursdays!!
Whatever it is that you STINK at, post it on Tripped UP Thursdays!
Let's help one another!